Incubus drummer Jose Pasillas and Brandon Boyd the vocalist attended Wright Middle School together. Jose then met Mike Einziger the guitarist. Jose and Mike became friends with bass player Alex Katunich whilst attending Calabasas High.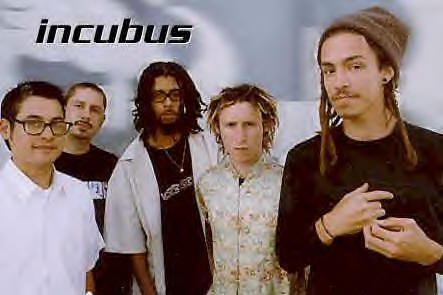 Soon after they discovered Brandon's talent for singing. They decided to form a band and started to write songs. "Love Sick" was the bands first song. "Purple Kool-Aid", "Sylvester Polyester" and "My Soul (The Underground)" were some of the songs that followed.

The band still didn't have a name, 'Spiral Staircase', 'Chimera', and 'Chunk-O-Funk' were some of the original suggestions. 'Incubus' was settled on when the definition read to the rest of the band members.
INCUBUS: (Latin for "nightmare") In medieval European folklore, the incubus is a male demon (or evil spirit) who visits women in their sleep to lie with them in ghostly sexual intercourse.
The band continued to write songs including "Backwards", "Miss Bliss" and "Damnation.

In 1994 whilst still writing and performing the band released their first demo tape called "Closet Cultivation".

In 1995 Mark Shoffner gave Incubus an offer to record in his friends studio. On January 7th 1995 they released the demo tape "Incubus". Ten months later their first album "Fungus Amongus"

was released on November 1st.
DJ Lyfe had seen Incubus playing live and suggested they might use some of his hip-hop tracks. He joined the band after just one rehearsal. Incubus soon signed to record label Immortal records

On January 7th 1997 Incubus' EP "Enjoy Incubus"

was released featuring re-recordings of 4 tracks off of 'Fungus Amongus and two new tracks. This was first recording with DJ Lyfe.
Soon after releasing "Enjoy Incubus" the band toured Europe with the Urge and Korn. Their fan base was growing.
"S.C.I.E.N.C.E" was released on September 9th 1997.

Incubus went on tour with Sugar Ray to promote this new album. At first they were only on tour with Sugar Ray for their US dates however the success of Incubus' performances lead them to stay on for the whole tour.
In February of 1998 DJ Lyfe was asked to leave the band. DJ Chris Kilmore would fill the position.

With their new line up Incubus began touring with other bands Far, One Minute Silence, Cold, Limp Bizkit. July 3rd 98 saw the band begin the Ozzfest tour, which included, Coal Chamber, Snot, Tool, Ultraspank, Limp Bizkit and System of a Down.

Incubus spent all of 1998 touring and started the new year in much the same way by touring with Black Sabbath until mid-March.
October 26th 1999 saw Incubus release "Make Yourself" which included 13 new tracks.


After the release of "Make Yourself", Incubus went on tour with Primus and Buckethead which lasted for the rest of 1999. They band also released the single, "Pardon Me" from the album which began to play all over radio stations across America.

Make Yourself hit Gold Status (500,000 copies) in April of 2000. The band went on the road again playing shows with Queen Adreena. They returned home at the end of May to go back on a tour of the United States with 311.
They released a second single from "Make Yourself" was "Stellar", It was a huge success on Billboards Modern Rock Chart.

In July Incubus went out on the road with Ozzfest again. This prompted them to realise that the fans were loved the acoustic versions of songs from "Make Yourself" so the band released "When Incubus Attacks Volume 1" a 6 track EP on August 22nd, 2000

.
In its first week, "When Incubus Attacks Volume 1" sold nearly 40,000 copies, and scored #41 on the Billboard Album Charts.
The band then took a short break after the Ozzfest 2000 Tour, and played two acoustic shows at Artist Direct Studios.
At the beginning of 2001 the band released their third single off of "Make Yourself", 'Drive'.
It eventually hit #1 spot in the US charts.
The video for "Drive" was nominated for an MTV Video Music Award in the category Best Group Video. However they lost the award to the pop group N'Sync.
On August 21st, 2001, Incubus released their first single from their soon to be released new album, "Morning View" called 'I Wish You Were Here'. In early September the single was g at #2 in the US.
On October 23rd, 2001, Incubus released their 3rd full length album "Morning View". Named after the street which the mansion they had recorded in was.
Incubus continued to headline dates after its release. 'I Wish You Were Here' continued to be among the top 10 on Billboards Modern Rock Charts.